Why Go Outdoor Movies Uses AIRSCREEN® Inflatable Movie Screens
February, 13th 2020 by Shane Goslin
When Go Outdoor Movies first started, we used outdoor movie screens that we thought were quality because it was what we knew and were used to using. However, once our business started to take off it was finally time to shop for more new inflatable movie screens. After what felt like months of contemplation, we decided to buy our first AIRSCREEN. We had never even seen one before and had only seen that they appeared extremely nice based on our research. It really felt like a leap of faith. However, when we set it up for the first time, our jaws dropped. It was clear that AIRSCREEN was the future for Go Outdoor Movies. The quality of the inflatable screen was unmatched to anything we had seen before. Believe us when we say that
AIRSCREEN is the ONLY outdoor movie screen brand that Go Outdoor Movies will ever purchase from now on.
What is an AIRSCREEN®?
AIRSCREEN manufactures the highest quality inflatable outdoor movie screens available in the USA today. They are manufactured in Germany just like premier luxury brands such as Mercedes Benz and Porsche which are known for quality. AIRSCREEN inflatable movie screens have high frequency welded seams around the entire inflatable to make sure no air escapes, unlike your typical inflatable that uses stitched seams. Since the seams are perfectly sealed, it makes the inflatable screen rock hard like an inner tube. This increases both safety and viewing quality in the event of light to heavy winds during an outdoor movie night. Other screen brands will bend and flex in the wind, nearly collapsing, which could create an unsafe viewing experience. AIRSCREEN's have a wind resistance of up to 24 MPH, which will help keep your audience safe at your outdoor movie event.
AIRSCREEN inflatable movie screens use theatrical seamless projection surfaces, which creates a viewing experience identical to that of an actual movie theater. Not only does Go Outdoor Movies purchase quality projectors, but we supplement it with quality movie screens. Why would you buy a 4K firestick and plug it into a non 4K TV?
That's why Go Outdoor Movies only buys AIRSCREEN inflatable movie screens to pair with our HD projectors.
Commitment to Quality:
When it comes to high-quality HD projector and inflatable screen rentals, Go Outdoor Movies guarantees the best. The theatrical projector screen surfaces found on AIRSCREEN truly make the outdoor movie experience one to remember. If your organization is on a tight budget or won't be using the screen often, purchasing an AIRSCREEN might not be the best option. However, if your organization could always rent an entire outdoor movie package from Go Outdoor Movies. Go Outdoor Movies can also sell you an AIRSCREEN upon special request.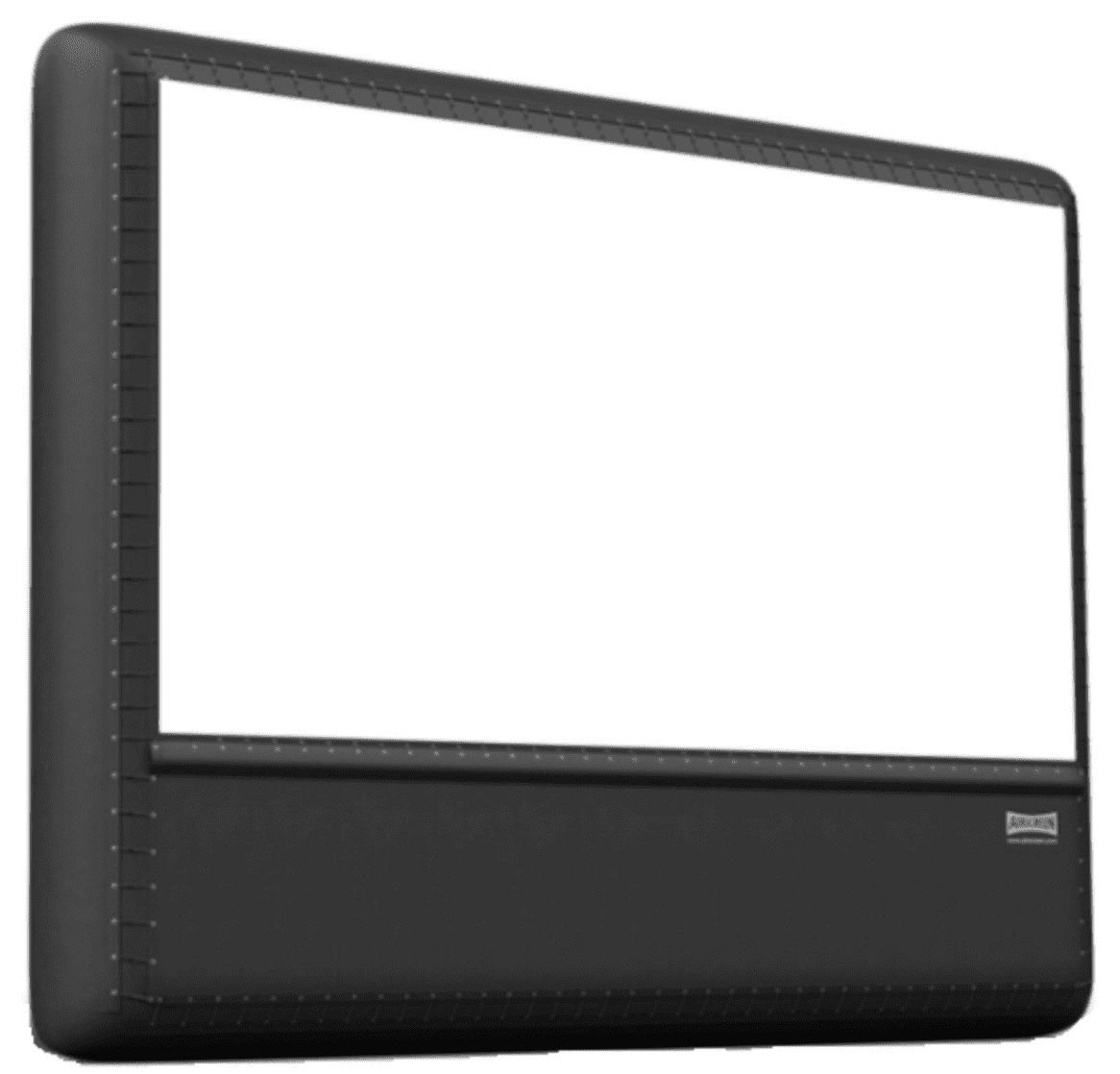 AIRSCREEN® Features and Specs:
25 MPH Wind Resistance
Wind Gust Resistance up to 45MPH
Screen Surface Elevated 6-ft above the ground to increase viewability in larger crowds
Theatrical Seamless Screen Surface
Wrinkle Resistant Screen with 0.96 Gain
Blackout on the rear of the screen keeps out unwanted light
No loud blower (AIRTIGHT Screens ONLY)
Quick screen inflation and deflation
HF welded seams (NOT stitched) keep the screen rock solid and stable