Projector Buying Tips For Dummies 2020
February, 23rd 2020 by Shane Goslin
The process of purchasing a projector for an outdoor movie night, or even in general, can seem confusing at first. Quite honestly, even I had to learn about projectors when I started New Age Cinemas. But have no fear, this projector buying guide should help get you started on the right foot.
Common Projector Resolutions: XGA, WXGA, WUXGA, and HD
When it comes to the type of content that your projector will display, it is important to choose a projector resolution that fits it well. The last thing you want at your event is for your guests to not be able to read small letters on a PowerPoint because a lower resolution projector makes the text look pixelated. However, when shopping for projectors, the resolutions are shown in standard acronyms such as "XGA" or "WUXGA" which can be confusing at first. Each acronym correlates directly to an industry-standard resolution that is designated to that acronym.

The projector resolution guide shown to the right shows both the resolution and the overall aspect ratio of each acronym. The actual amount of pixels per resolution can be calculated by multiplying the width of the resolution by the height. For example, XGA has 786,432 pixels in total while WUXGA has 2,304,000 pixels in total. This show that WUXGA has nearly 3 times the number of pixels, which will always result in sharper and higher quality images being displayed to your audience.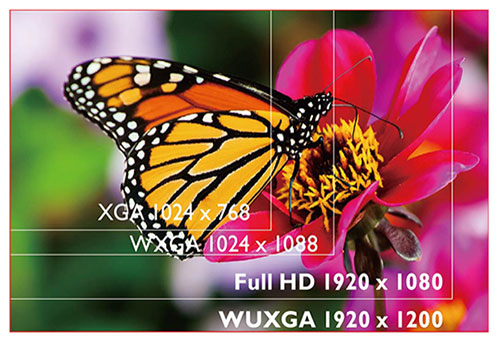 XGA (1024x768 pixels, 4:3 aspect ratio):
XGA is widely used. Most older computers use XGA as their native resolution, so pairing computers to XGA projectors is common. It is the lowest budget option available. This resolution is not the best for displaying small text but works well for images.

WXGA (1280x800 pixels, 16:10 aspect ratio):
WXGA is the widescreen version of XGA â" delivering the same vertical resolution but providing 20% more horizontal resolution. This has become a common resolution for notebook computers and smartphones. This resolution is best for lower budget widescreen applications that do nor require an HD display.

WUXGA (1920x1200 pixels, 16:10 aspect ratio):
WUXGA is used for installation projectors and large-venues that require bright, high-definition content. This is the most versatile resolution out of all that will be addressed here. WUXGA is HD and it can fill a 4:3 screen more easily since it has a 16:10 resolution rather than a 16:9. WUXGA is typically the most expensive, even more than standard HD (see below) since it has more overall pixels than HD.

720p (1280x720 pixels, 16:9 aspect ratio):
This format is most commonly used for economical movie projection. It matches the 720p HDTV standard. Widescreen format at a budget friendly price.

1080p HD (1920x1080 pixels, 16:9 aspect ratio):
This is now the standard format for home theater. It matches the 1080i/1080p HDTV broadcast and Blu-ray formats. It is hard to go wrong with standard 1080p HD when it comes to projectors. However, just like WUXGA, it comes with a higher price tag.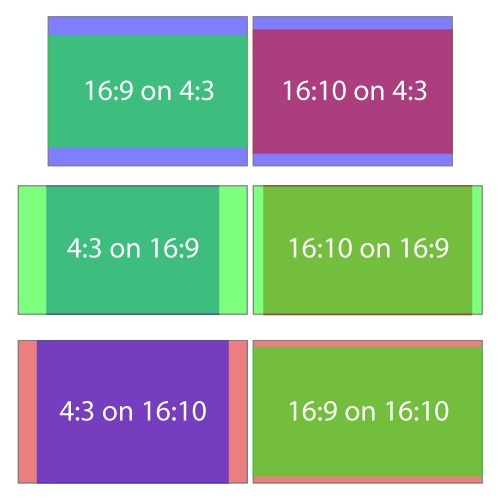 Projector Brightness Explained: How Lumens Do I Really Need?
Choosing how many lumens you need for your projector can be disorienting without any previous projector experience. As a good rule of thumb, we do not recommend buying a projector under 3,400 lumens unless your budget is restricting.

A lumen is defined as a measurement of light per area. However, most modern projectors are now advertised in ANSI lumens, which is a modern testing standard. It takes into account both light and dark areas and averages them across the screen. The ANSI measurement is more precise when representing how a projected image will actually appear vs only how much light is being emitted by the projector bulb.

When it comes to outdoor movies where ambient light cannot be controlled, it is recommended to have an average of 18 lumens per square foot. This will allow for adequate screen illumination in nearly all situations. However, the best option is to always be above this if possible. It will protect your event and keep your audience happy in the unfortunate event that there happens to be ambient lights.