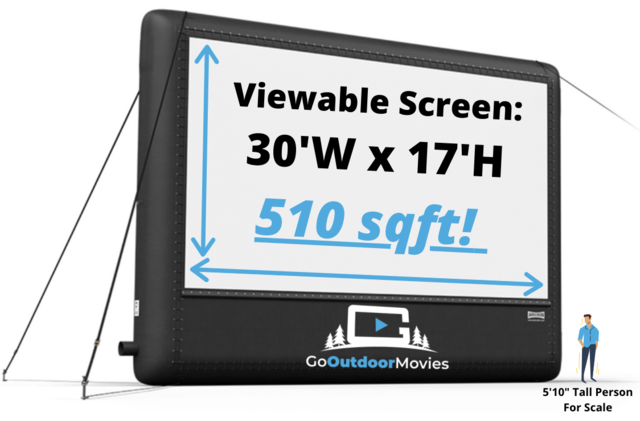 30ft AIRSCREEN Drive-in Movie - 75+ cars
Actual Size: 35' Wide x 5' Deep x 26' Tall
Setup Area: 40' Wide x 20' Deep
Outlets: 2




Our Ultimate Drive-in Movie Screen Rental Package! Includes FM Transmitter!


If you want a truly GIANT inflatable movie screen for your drive-in movie, this is the one for you.
The 30-foot outdoor movie rental comfortably accommodates outdoor movie crowds of up to 1,200 people for your next outdoor event. This movie screen can also accommodate up to 125 cars if you wanted to host a drive-in movie night. The screen starts 6'6" above the ground, clearing all car roofs for great visibility!
With over 500sqft of viewable screen and towering 25 feet tall, this will bring your drive-in or outdoor movie experience to the next level.
The 30-ft inflatable screen rental is the highest quality rental available in East Texas, Dallas, Fort Worth, and West Louisiana including Shreveport and Bossier City. We are proud of the outdoor movie experience that we provide for friends, families, and communities across the region.
We guarantee it will leave a lasting impression on your guests for many more events to come!
30 Foot AIRSCREEN® Drive-in Movie Screen Rental Includes:
The 30′ x 17′ inflatable outdoor movie screen is the perfect size for a drive-in movie.
For outdoor movie crowds of up to 1200 people or up to 125 cars.
-Large 30' Wide x 17' Tall viewable screen (white surface).
-13,000 Lumen HD Christie Cinema Projector Rental
-Drive-in AV Console Rental
-FM Transmitter Rental
-Oppo Blu-ray player Rental
-QSC K12.2 2000 watt speakers Rental (Optional)
-Microphone Rental
-4-ft Table with Black Table Cloth
-Outdoor Movie Event Host(s)
-All required power and audio cables
Popcorn and Generator Rentals can be added on separately or see 30-foot AIRSCREEN Package 2.
30 Foot AIRSCREEN® Inflatable Drive-in Movie Screen Specifications:
AIRSCREEN® stands alone as the flagship of the inflatable movie screen world with state-of-the-art craftsmanship, pioneering innovation, and elegant design. These characteristics are the exact reason that AIRSCREEN is the only outdoor movie screen brand that Go Outdoor Movies uses.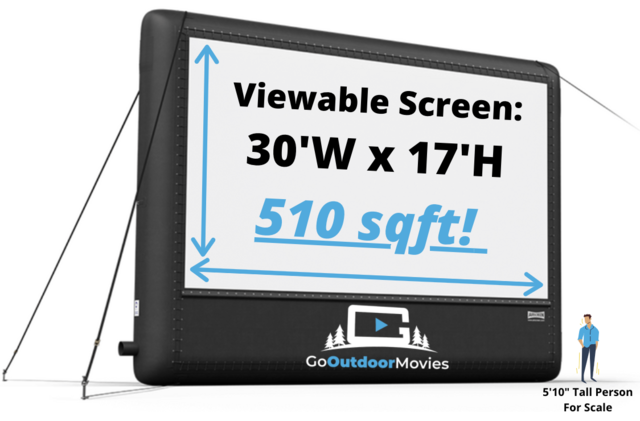 -Theatrical professional .96 gain front screen. (optional rear projection upon request)
-Rock stable in wind due to airtight construction (hard like an inner tube).
-Proprietary valence blacks out light below the screen surface.
-Proprietary seamless screen surface with minimal stretch in wind.
-Projection Screen Width 30' 0" (9.1 m).
-Projection Screen Height 17' 0" (5.4 m).

-Overall Width 34' 10" (10.7 m).
-Overall Height 25' 6" (7.8 m).
-Screen Surface from Ground 6' 6" (1.8 m).