Our Goals as Go Outdoor Movies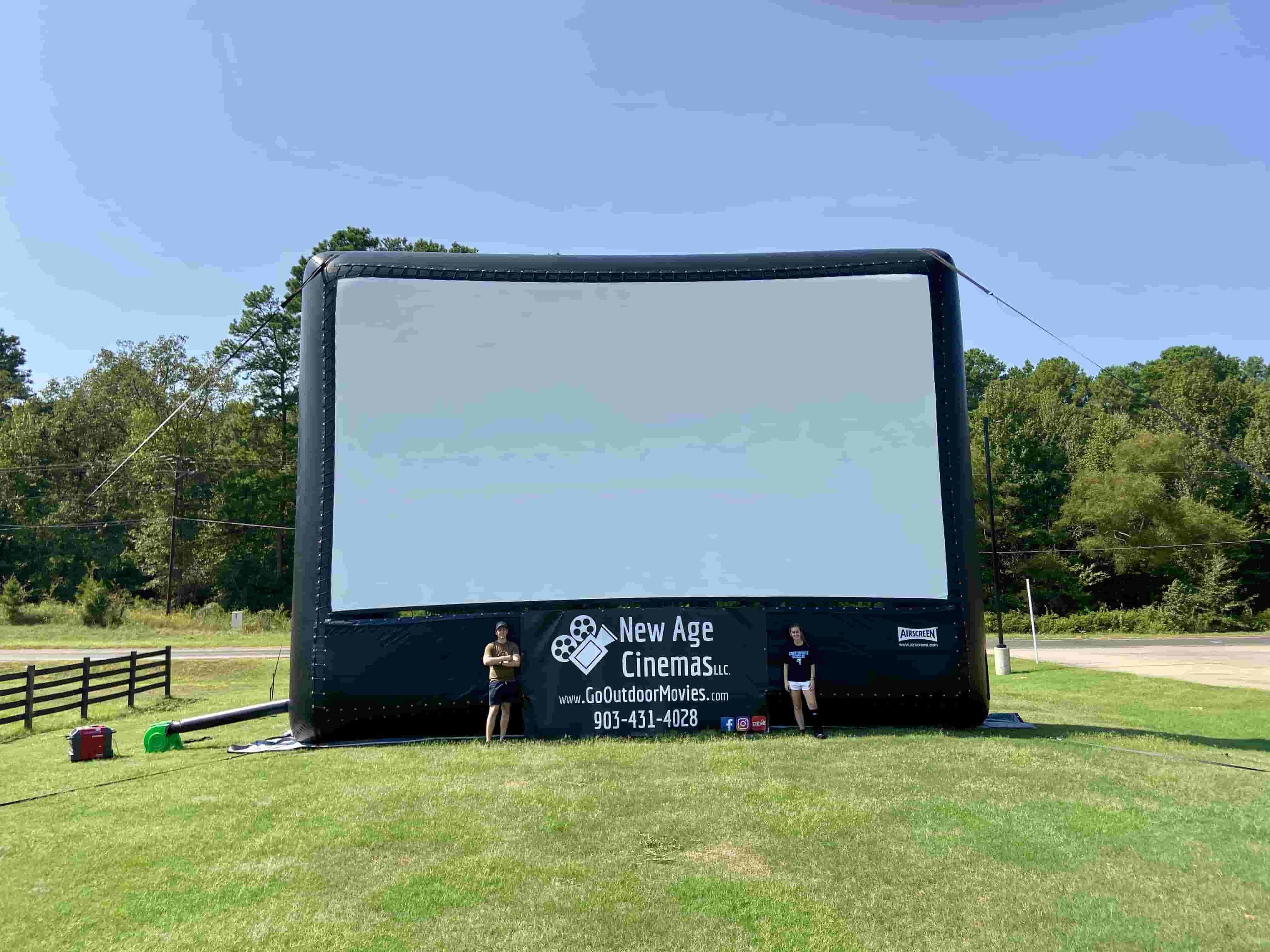 The Biggest Screens

Our inflatable movie screens are HUGE and we have different sizes to fit any outdoor movie big or small! We can bring the biggest and best outdoor movie experience in East Texas.
What screen sizes do we have?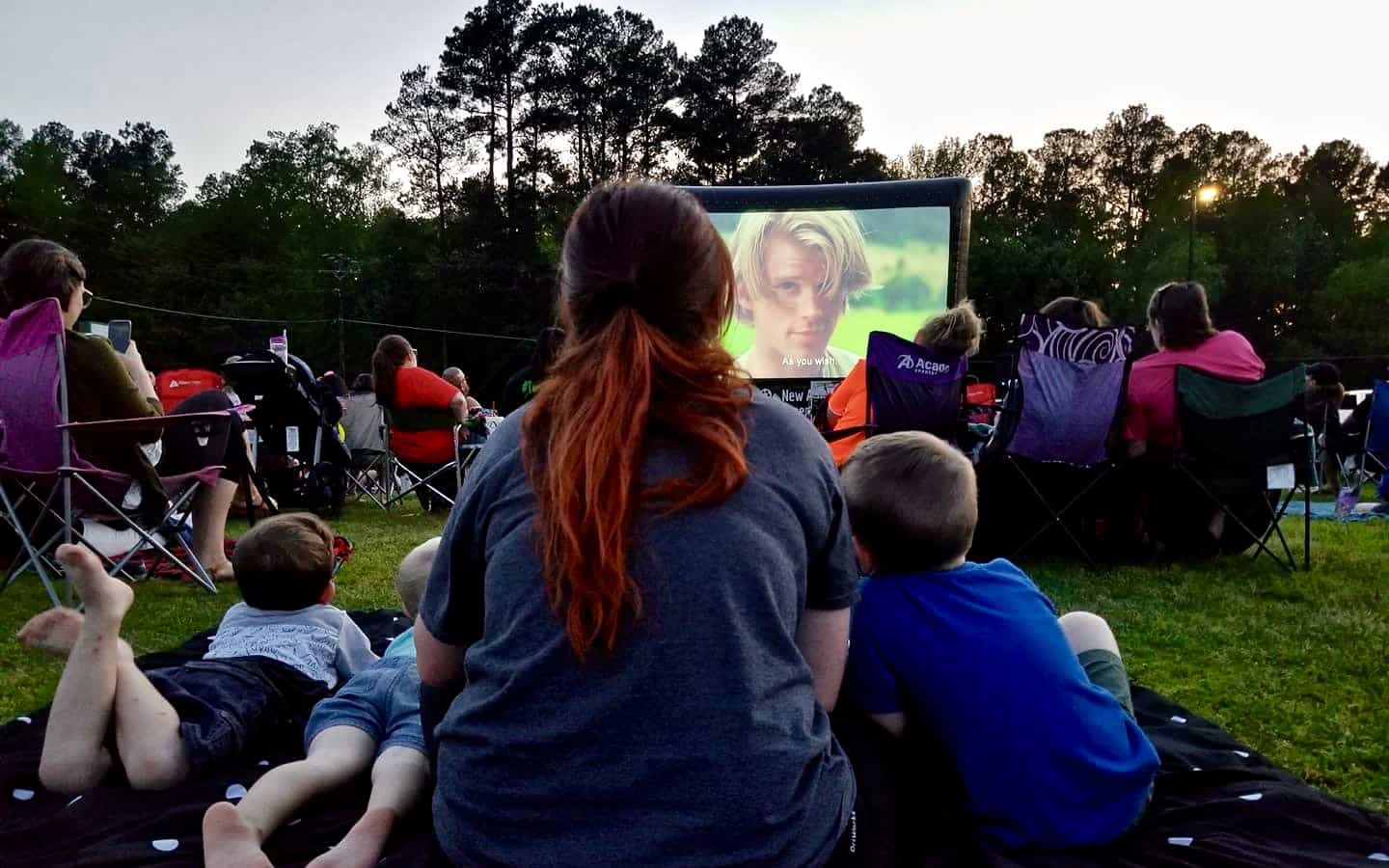 The Highest Quality

Nearly all of the money that is made is put right back into our outdoor movie equipment to create the highest quality rentals in East Texas!
We are insured and licensed in the great state of Texas.
What brands do you use?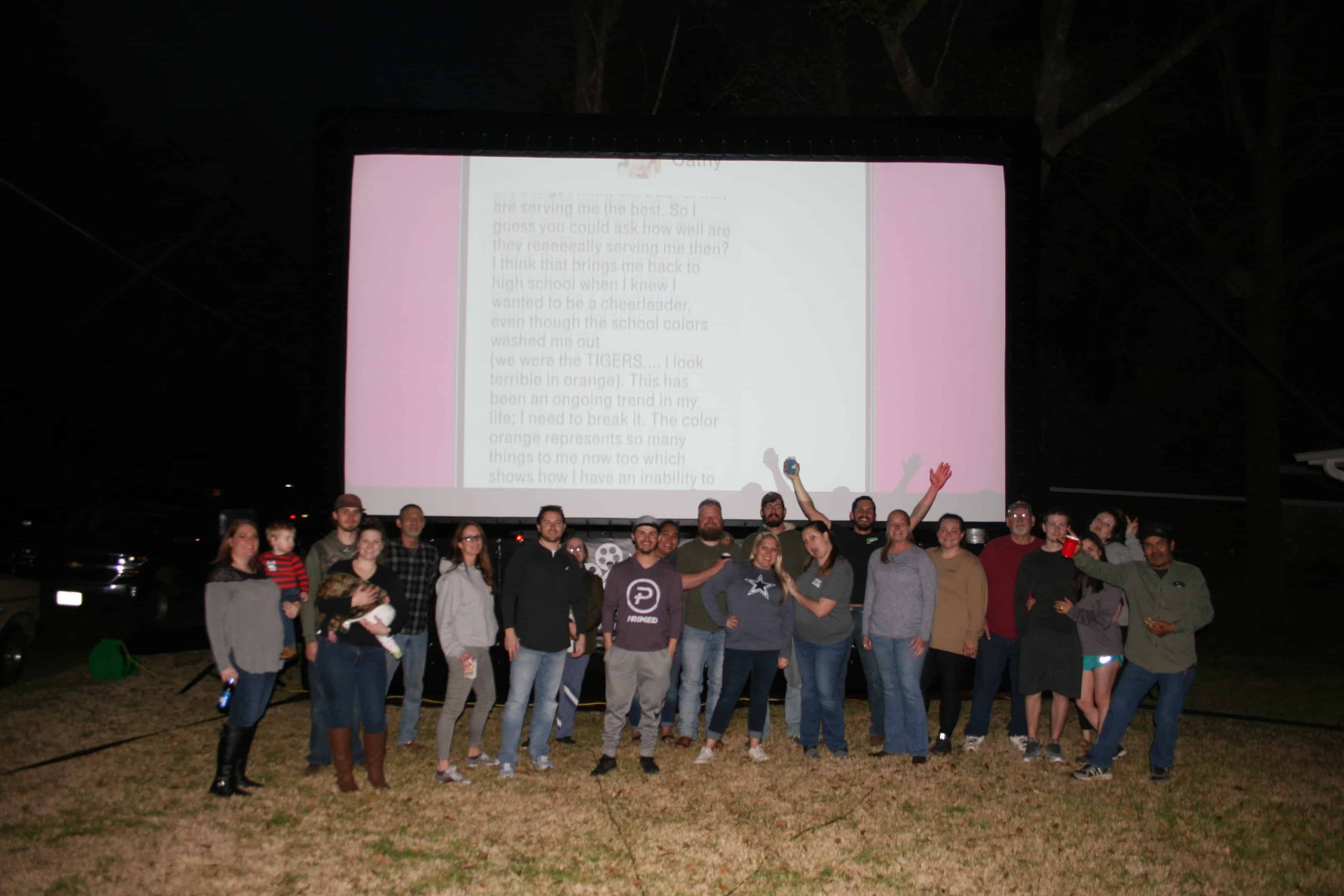 The most fun!

Our goal is to make your outdoor movie rental as stress free as possible by handling nearly everything! The only thing you need to provide is power and the movie, we handle the rest!
Book your party today
How do you measure your screen size?
There are many ways to measure the size of the screen. There is the footprint or frame of the screen and there is the actual viewable area. New Age Cinemas DBA Go Outdoor Movies provides a width measurement as well as the actual viewing area (white screen surface). The majority of our screens are in 16:9 format to fully support the latest Hollywood releases, including Blu-Ray.
Are you a registered corporation or LLC in the state of Texas?
Yes, we are a registered LLC in the state of Texas!
We are aware of several outdoor movie companies operating in Texas that are not registered with the state. This could hurt your chances of collecting for damages in the event something unforeseen occurs. Ask for their Texas Sales and Use Tax Permit and check with the Secretary of State to make sure they are a legitimate company and not simply a fly-by-night company trying to make a quick buck.
What type or brand of screens are you using?
Freestanding aluminum screens and inexpensive screens are not designed for commercial use and can fall over easily or look unattractive.
Go Outdoor Movies uses
AIRSCREEN®
outdoor inflatable movie screens are made for outdoors and are the industry leader for inflatable movie screens. The screen surface on AIRSCREEN systems are theatrical quality. Another very important attribute on AIRSCREENS, the actual screen starts 6 feet off the ground, which provides for better audience viewing.
What is the wind rating on your screens?
There are numerous inflatable movie screens on the market. Most have a wind rating of up to 10 mph only. Our AIRSCREENS, however, are rated for 26 MPH winds and can withstand gusts up to 45 mph. Wind ratings are important, especially in locations that are near lakes, beaches, and flat rolling hills. More importantly...Wind ratings and stability of screens are imperative for the safety of your audience.
Does the surface or viewable part of the screen make a difference in the picture quality?
Most inflatable screen manufactures do not have tight viewable surfaces, which means they DO NOT have theatrical surfaces. Therefore, they get very wrinkled. Transparent or rear-projection screens can cause the movie to look distorted. Especially if there is any wind. Rear-projection screen surfaces produce a duller picture. The reason...up to 50% of projection light can get lost projecting through the screen.
AIRSCREEN's
have the same projection surface as the screens in movie theaters, which produce a bright, crisp movie image. The way Hollywood intended their films to be seen! AIRSCREENS have a tight projection surface and a windshield on the back of the screen.
What type of sound and projection do you use?
Many providers of outdoor movie events claim to have state of the art equipment, but what year was their equipment state of the art? Many providers use both sound and projection systems that are underpowered. (Sometimes they use equipment that is meant for indoor events).
Lumens, or brightness of a projector, is an important aspect of having a bright, crisp picture, but it is not the only factor. It is equally important to understand the surface material being projected upon. Another aspect of a bright picture is to determine how well the projector has been maintained. A projector that has many hours of use will have a duller bulb. Go Outdoor Movies policy is to replace projector bulbs when just 30% of their brightness has been reduced (70% remaining).