Arlington Backyard
Movie Screen Rentals
Serving Arlington and The Surrounding Communities
Book Online Now
  Backyard Movie Screen Rentals
Full-Service Backyard Movie Rentals in Arlington
Our backyard movie screen rentals are perfect for your next big birthday party idea! We bring the fun of the classic drive-in and movie theater to you anywhere in Arlington for an amazing night under the stars for your backyard outdoor movie night. Whether it is next to the pool, in the driveway, drive-in movie, backyard video game night, community movie night, a movie in the park, or HOA movie night, we have a movie screen rental that can fit your needs.

Our backyard movie packages consist of a 12-ft x 7-ft inflatable movie screen, which can accommodate crowds of up to 120 people for your outdoor movie night! We promise your party will be blown away by both the size of the inflatable screen and the quality of the outdoor movie experience. The 12-ft x 7-ft inflatable movie screen package can fit into nearly any backyard or tight space. Our backyard inflatable projector screens measure up to 165" in diagonal. That's right, a 165'" TV for your backyard movie night! Now that is how you do a movie night for your birthday or backyard party! You can even add popcorn if desired AND we will serve it for you. No worries on power either, we offer generator rentals that you can add to your backyard movie screen rental to make sure you have more than enough.

It is our goal to create a high-quality outdoor movie experience while also making it as stress-free as possible. All you have to do is show us where you want the inflatable screen and provide the DVD, we do the rest! It's our job to ensure your backyard movie night is the easiest party you've ever hosted.

Go Outdoor Movies is here to serve you by delivering an unforgettable experience to families all around Arlington. When it comes to the best provider of backyard movie screen rentals that Arlington has to offer, look no further than Go Outdoor Movies! We provide the most fun for the best value. Whether you're having an private party in your backyard, or are hosting a birthday party, a school event, a church picnic, or a drive-in movie, Go Outdoor Movies will be there to serve you.
Easy Online Ordering and Transparent Pricing
The Reservation Process is Super Simple:

1. Select the date of your event.

2. Select the movie experience you are interested in.

3. Input your information, as well as where the event will be held.

4. Pay a small deposit or pay in full.

You provide the power and movie, we provide the rest.
Creating a movie night under the stars is that SIMPLE!




Life is full of experiences, make the next one special and memorable.
Take a step back from world events and enjoy those around you. A great way to get away from the world for a bit has always been to go catch a movie. While that has changed a bit, you can still create the experience and do it in your own backyard. Gather up the ones around you and head to the "theater." Everyone will get a kick out of watching a movie in your Arlington backyard, by the pool or another private setting you have in mind.

Or maybe your memorable experience is bringing over the guys to the big game or fight. With our 12' screens, you can create a fight night like never before. You'll be the guy who had the "best party in Arlington" for years to come.

Maybe it's time for a Girl's Night. Break out the mom drinks and turn on your favorite shows to laugh with. Who will get the last rose?
Backyard Movie Screen Rentals in Arlington Include:
Complete outdoor movie theater equipment rental, delivery, set-up, removal and a Go Outdoor Movies audio-visual technician. Everyone will be amazed with the unmatched quality! You simply provide the movie - we provide the rest! Priced from $299-$749 depending on screen size.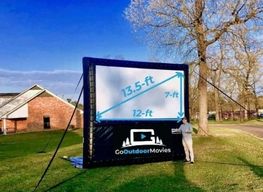 Inflatable Backyard Movie Screen & Projector
Our giant inflatable screens are AIRSCREEN which is the highest quality screen brand available on the market today. Each outdoor movie screen comes with advertising space, blower & roping. Our screens will comfortably please crowds from 120 to 1,200 guests.

It features a large 12' wide x 6'9" tall viewable screen. That is great for our 4200 lumen, high-definition projector to really bring the details to life.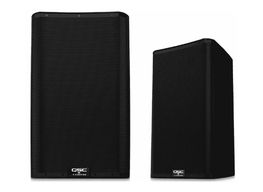 Concert Grade QSC Speakers
Concert Grade QSC Speakers are the highest quality speakers available on the market today. With each speaker rated at 2,000 Watts of power, volume will be no problem at the event!

Trust us when we say your neighbors will hate us, but we will tell them we are not sorry. The show must go on!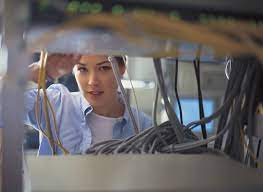 Go Outdoor Movies Audio-Visual Tech
A Go Outdoor Movies Audio-Visual technician will stay to setup, run, and tear down your entire movie night. We will take care of all technical components & serve your guests popcorn if included in the outdoor movie package. The last thing we want is for you, the customer, to be left with a bunch of unfamiliar equipment in the unfortunate, but rare, event of something going wrong.

Our Audio-Visual Technician will always be there to save the day and make your event stress-free!
Create a Movie Night in Arlington With a Backyard Movie Screen Rental
Let us take the stress and worry out of your next big event. With our convenient
online quoting and booking,
it's a breeze to book your next backyard movie screen rental in Arlington for your next birthday party or gathering at your home. We also offer screens for
larger events
such as, school field day or corporate function. Outdoor movies and inflatable screen rentals are what we do, and nobody does it better than Go Outdoor Movies. When you find the perfect item, simply add it to your
order
and continue shopping or proceed to checkout.
Every event that we host is fully insured
to protect everyone involved in each of our events. Safety in our party rentals is extremely important to us. If we can't make an event happen safely, we will not do the event.
---
Only the Best Inflatable Movie Screen Rentals
At Go Outdoor Movies, we are proud of the screen rentals and professional AV services that we provide. We only buy and rent the best
Audio-Visual Equipment and inflatable projector screens
to guarantee that your next presentation, school movie night, movie in the park, drive-in movie, or
backyard movie night
goes smoothly and exceeds all of your expectations. Our giant
inflatable movie screen rentals
are AIRSCREENS which are the highest quality that can be bought. All of our inflatable outdoor screens used in Arlington have a wind resistance of up to 25MPH,
with gusts up to 35MPH!
At Go Outdoor Movies, safety is our utmost priority which is why we only buy the best. Our inflatable movie screen rentals have theatrical seamless surfaces, meaning the projector screen is exactly what is used in your local movie theater to preserve color, picture quality, and brightness. Other brands use a cheap cloth material that isn't theatrical and is sewn in the middle, creating a much less desirable viewing experience. We would recommend checking out our
movie articles
for more information. Read more
about Go Outdoor Movies
.
Our Service Area
Go Outdoor Movies is proud to serve the following areas for their Inflatable Movie Screen Rentals:
If your party or event is beyond that radius, just let us know! We may be able to make special accommodations to suit your event.
NOTE: Fees may vary depending on how far you are outside our service area.
People Who Rented Backyard Movie Screen Rentals in Arlington Also Shopped for:
Why Our Customers LOVE Go Outdoor Movies
Frequently Asked Questions