Large Event Packages
Giant Outdoor Movie Screen and Inflatable Projector Screen Rentals
Our giant inflatable movie screen rentals are perfect for your next big event! We bring the fun of the classic drive-in to you for an amazing night under the stars for an outdoor movie night. Whether it is your next school movie night, church movie night, drive-in movie, community event idea, movie in the park or dive-in movie by the pool, we have an inflatable screen rental that can fit your needs.
Our large event outdoor movie rental packages consist of either a 20-ft outdoor movie screen, 24-ft outdoor movie screen, or 30-ft outdoor movie screen rental, which can accommodate crowds of between 500 and 1,200 people for your outdoor movie night!
We promise your crowd will be blown away by both the size of the inflatable screen and the quality of the outdoor movie experience. Our commitment to quality is what makes Go Outdoor Movies different than the other "outdoor movie guys".

Our monster-sized inflatable movie screens measure up to 411" in diagonal. That's right, a 411'" screen for your viewing pleasure! Now that is how you do a movie for your party! You can add on popcorn if you want as well. No worries about power either, we offer generators to make sure you have more than enough. Go Outdoor Movies is here to provide the best full-service outdoor movie screen rental experience in both Texas and Louisiana. It is our goal to work with you to create a unique and engaging outdoor movie experience that will keep your customers coming back time and time again!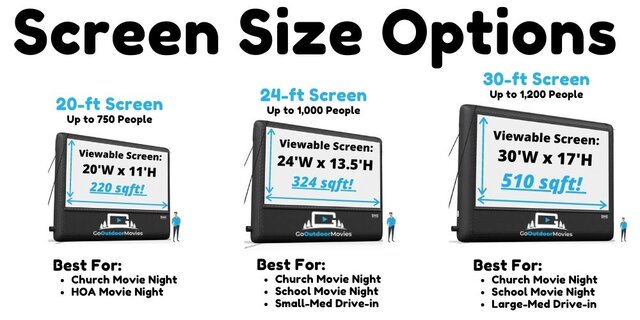 Package 1 Includes:
AIRSCREEN Inflatable Movie Screen Rental
High Lumen HD Projector
Blu-ray Player and Sound Mixer
QSC K12.2 Speaker Rental (4000 Watts) (Tell the neighbors we aren't sorry)
Microphone
Go Outdoor Movies Event Host(s)
Package 2 Includes:
All items from Package 1
+Large Event Popcorn Machine Rental (100 1 oz servings of popped popcorn)
Additional popcorn servings can be added if needed.