Longview's Trusted Choice for Movie Screen Rentals
Inflatable Movie Screen Size Options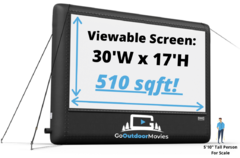 40 Foot Screen
The 30-ft inflatable outdoor movie screen rental is perfect for creating a large drive-in movie experience or any large event. The 30-foot outdoor movie screen rental can accommodate crowds of up to 1,000 people or 75-100 cars.
Book Now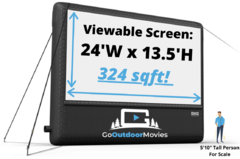 30 Foot Screen
The 24-ft inflatable outdoor movie screen rental is perfect for creating a medium-sized drive-in movie experience or any large event. The 24-foot outdoor movie screen rental can accommodate crowds of up to 1,000 people or 50-75 cars.
Book Now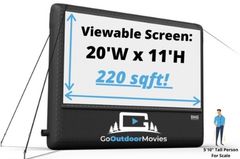 26 Foot Screen
The 20-ft inflatable movie screen rental is our best all-around value. This screen can accommodate up to 750 people, but still brings the "wow factor" that you want in your outdoor movie night to keep your guests coming back again and again!
Book Now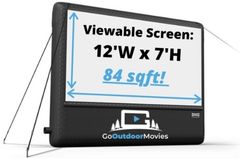 16 Foot Screen
The 12-ft inflatable screen rental is perfect for the backyard movie night, youth group event, or indoor movie night. It can accommodate up to 250 people and is the most budget-friendly outdoor movie package we have.
Book Now
Best Outdoor Movie Screen in Longview, Texas
Go Outdoor Movies is proud to offer the best outdoor movie screen rentals, projectors, speakers, and outdoor events that Longview, Texas has to offer. We are a full service event rental company and we can provide nearly everything you need for your next party or event. Whether you are having a school field day, a birthday party, a church picnic or even a wedding, we have a great selection of items to make your outdoor event one of a kind. We have provided services to several schools, homes, and businesses in the Longview, TX area including events for Longview Mainstreet, Longview Parks and Recreation, Shivers Natural Snow, and many others. We really enjoy delivering the fun to the fine folks of all the wonderful neighborhoods in the area including Marshall, Gladewater, Paris, and Gilmer just to name a few.
GoOutdoorMovies is Longview's Preferred Movie Screen Rental Service Provider
All the fun of the outdoor movie theater brought to you on an inflatable movie screen! When it comes to the best outdoor movie screen rentals,
high lumen HD projector rentals
, and
indoor projector screen rentals
that Longview has to offer, look no further than Go Outdoor Movies! We provide the most fun for the best value. Whether you're having anutdoor movie in
Dallas
or in
Fort Worth
, a birthday party in
Tyler
, a school event in Shreveport, a church picnic in Longview, or a drive-in movie in
Paris Texas
, Go Outdoor Movies will be there to serve you with our giant inflatable screens!
Full Service Outdoor Movie Rentals
Let us take the stress and worry out of your next big event. With our convenient
online quoting and booking,
it's a breeze to book your next
birthday party
,
school field day or corporate function
. Outdoor movies and inflatable screen rentals are what we do, and nobody does it better than Go Outdoor Movies. When you find the perfect item, simply add it to your
cart
and continue shopping or proceed to checkout.
Every event that we host is fully insured
to protect everyone involved in each of our events. Safety in our party rentals is extremely important to us, if we can't make an event happen safely, we will not do the event.
Only the Best Inflatable Movie Screen Rentals
At Go Outdoor Movies, we are proud of the screen rentals and professional AV services that we provide. We only buy and rent the best
Audio-Visual Equipment and inflatable projector screens
to guarantee that your next presentation, school movie night, movie in the park, drive-in movie, or
backyard movie night
goes smoothly and exceeds all of your expectations. Our giant
inflatable movie screen rentals
are AIRSCREENS which are the highest quality that can be bought. All of our inflatable outdoor screens have a wind resistance of up to 25MPH,
with gusts up to 35MPH!
At Go Outdoor Movies, safety is our utmost priority which is why we only buy the best. Our inflatable movie screen rentals have theatrical seamless surfaces, meaning the projector screen is exactly what is used in your local movie theater to preserve color, picture quality, and brightness. Other brands use a cheap cloth material that isn't theatrical and is sewn in the middle, creating a much less desirable viewing experience.
Longview Movie Night Ideas:
Apartment Movie Nights
Church Movie Night
Parks and Recreation Movie Night
Outdoor Movie Fundraiser
Golf Course Movie Night
Library Movie Night
Mall and Shopping Centers
Block Party Movie Night
HOA Outdoor Movie
Silent Auction Event Idea
Super Bowl Party
Winery Outdoor Movie
Dive-in Movies
Enjoy a Classic Outdoor Movie Experience!
Our Service Area
GoOutdoorMovies is proud to serve the following areas for their Inflatable Movie Screen Rentals:
Frisco, TX
Irving, TX
College Station, TX
Waco, TX
Houston, TX
Plano, TX
Corsicana, TX
Waxahachie, TX
If your event or party site is beyond that radius, just let us know! We may deliver further out to your event location. Just give us a call to confirm.
NOTE: Extra fees may vary depending on how far you are outside our service area.
Best Inflatable Movie Screen Rentals in Longview Texas
Looking for affordable movie screen rentals in Longview and East Texas? Well, you have come to the right place. GoOutdoorMovies is a guaranteed hit! We specialize in inflatable movie screen rentals and AV equipment rentals for events such as but not limited to: backyard movie nights, school festivals, corporate meetings, church carnivals, movie in the park events, backyard parties, high school college graduation parties, and HOA movie night events. We carry a large inventory of inflatable movie screens, indoor projector screen, speaker rentals, projector rentals, generator rental, popcorn machine rentals, 4K tv rentals, concessions, and more.